Hello Everyone!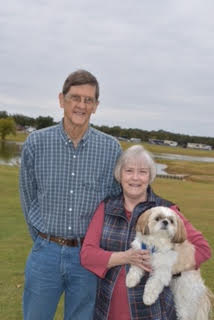 My name is Faye Wagner and my husband is Wayne. I'm sure you don't know much about me since we only moved to eastern Kansas in 2015 when I retired from the Kansas West Conference. I began ministry serving Brookville United Methodist Church while I was in seminary. After I finished at Saint Paul School of Theology in 2005, I was appointed to serve in western Kansas at Ellis and Palco; then I was appointed to Moundridge First United Methodist Church. Following Moundridge, I was appointed to Marion Valley United Methodist Church and enjoyed being closer to family. However, I had always wanted to be a chaplain so I asked for special appointment status so I could do my chaplain training at Wesley Medical Center. After I finished my training, I became a hospice chaplain in the Newton area before retiring from the Kansas West Conference. We wanted to move to Topeka where we would be near our son, Jordan and his wife, Becky, and our three grandchildren – Trenton, Tori, and Nathan. Just before retiring, our son, Bryan had married Melissa. They live in the Kansas City area. Shortly after we arrived in Topeka, they blessed us with another grandchild, Coraline.
The United Methodist Church doesn't let a retired pastor stay retired for long. Before I even made the move to Topeka, the Topeka DS had called to ask if I would serve a part-time church near Topeka. I was appointed to serve at Stull United Methodist Church in 2015. I "retired" again in 2019, luckily, right before the pandemic took hold of Kansas.
Wayne and I have enjoyed being in Topeka as we have watched our three Topeka grandchildren grow up quickly. Trenton turned 20 in November; Tori 17 in November and Nathan will be 13 next February. We have enjoyed getting to see many of their school activities and are so glad we moved to Topeka. Being this close to Shawnee, KS we have watched as Coraline started kindergarten last fall and it's been fun to watch her grow and change, too.
I am a bookworm and during the pandemic lockdown, I read many, many books – and no they weren't religious books, either. I have my favorite authors and I can get lost in reading the series they have published. A few of them are Jeff Wheeler, James Patterson and Nora Roberts. I recently discovered I had read a series of Nora Roberts some time back – maybe years – and I reread them. If I wait long enough, all of my books will seem like I'm reading them for the first time!!
Can't wait to get to know you. I don't have regular office hours but if you would like to talk with me about anything or nothing, give me a call and I'll meet you at the church office in a heartbeat. Until then,
Grace and Peace,
Pastor Faye